Gutters need to be cleaned and kept in perfect condition as every other part of the property. If not, there are plenty of problems like leaks, moisture and damages which can be caused by clogged downpipes.
Our company can offer you highly reliable and effective gutter cleaning services which we offer to the owners and renters living in South Kensington and in the nearby boroughs.
Our technicians are supplied with top-quality tools and equipment for sanitising gutters which they use to ensure safe and effective cleaning from the ground. Call us whenever you need one-time implement removal of the debris, rocks, leaves, moss, grass and wastes from the soffits, fascias and pipes of your guttering system.
Incomparable Gutter Cleaning South Kensington
You can ensure the long time functioning and well maintained condition of the gutters in any property you own or have rented using our services. They will ensure you:
Timely and thorough unblocking and cleaning of downpipes
Washing and rinsing of fascias and soffits
Cleaning of all gutter components and surfaces
Removal of debris, leaves, rocks, moss and grime from the downpipes, fascias and soffits
Making of photos before and after the cleaning
The peace of minds that your property won't be damaged from leaks and moisture caused by overflowing of rainwater
If you a homeowner or a holder of a commercial property you can use our gutter cleaning services once per year for keeping it in good condition. The cleaning which we carry out is implemented with telescopic poles made of carbon fibre which can be extended to 12 meters and special dry vacuum cleaning equipment.
"You gave me the best customer service I have ever experienced for which I am very grateful, so I plan on using your gutter cleaning service from now on. You responded quickly in a very urgent situation as my gutters were severely clogged. Great job at great prices! I told everyone I know about your company! – Sandra"
Affordable Gutter Cleaners in SW7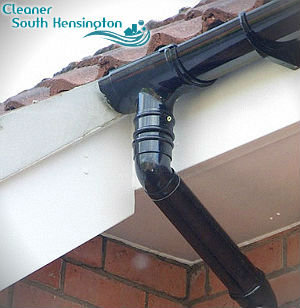 Our gardeners use CCTV cameras as well to observe the gutter components from all sides and do the cleaning well. We can supply the owner with before and after photos whenever requited. Call us to schedule your gutter cleaning and our company, operating in SW7, will provide it at a reasonable price.
Over time most gutters get clogged and filled with wastes, leaves, bird droppings, moss and grime which can cause filling with rainwater and leaks. You should carry out regular cleaning of the downpipes and gutters in your estate once every year or oftener.
Our company can offer you professional gutter cleaning which we provide in the South Kensington, SW7 and surrounding areas implemented by skilled and trained experts. Use the services of the professionals to get the results you expect.